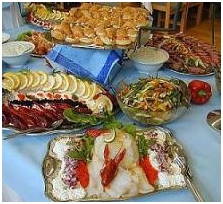 Do you know what to do down at the supermarket and try to find inspiration for dinner and don't really think there is anything you want to eat today?
On these pages you can find inspiration for healthy everyday and party food for and / or by sclerosis sufferers and other visitors to the site.
Based on our basic attitude of giving those with multiple sclerosis a real choice - regarding. diet choice, whether and how strictly you want to follow various tips on healthy eating - we have chosen to put all the submitted recipes on the site, including those that contain some of the "forbidden" foods, as they also contain a large part of the "Good" food.
We hope you find some ideas and recipes on these pages that you want to try out yourself.
If you have one or more recipes you want to share with us, feel free to send an email to kost@www.sclerose.info