10 Healthy Questions for a Totally Sick
Mia Wolffbrandt
Born: 19/9 1986
Residence: 2500 Valby
Children: 1 child, Melanie 4 ½ years
Pets: None
Spouse / Girlfriend: Ronnie
Life motto: "Have no expectations, but lots of hope"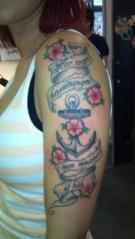 Question 1:
What words, thoughts and feelings went through your body when you were given the explanation for your body's "appearance" when you received the DIAGNOSIS SCLEROSE ???
Answer 1.
I got my diagnosis on January 11, 2008. It was in the Kingdom and I was talking to a Swedish doctor who I could not understand! My mother was with me. When the doctor said "sclerosis" I just glared at her and said "What is it?" I had no idea and she started explaining a lot of things but I just shut up completely and did not hear what she was saying .. My mother was sorry. She tried to hide it, but I could see that this was not good .. I got attack treatment immediately, as I could not see anything in my right eye. I still did not understand anything…
So my reaction was to shut down completely.
I said nothing, asked nothing. I just wanted to go home to my daughter ...
Question 2:
How did you get on in life - after the diagnosis? - did you take conventional sclerosis medicine - which one? - did you look for alternative routes - which ones? - did the shock of the diagnosis make you passive, did the disease put you down?
Answer 2.
Shortly after, I started at Rebif.
That's what the doctors recommended.
I still didn't have that many questions. I was never really scared. I just think it was something weird about it all. After 5 months of rebif, I switched to Avonex. I had too many attacks on Rebif.
It was very difficult for me to mentally stab myself. My mom came once a week and did it for me. I had a lot of side effects and bruises everywhere.
After 1 year at Avonex, I stopped myself.
I simply could not anymore. I started to "forget" to take the medicine, as I always got so bad after all.
Then I was allowed to start on Tysabri and then shut up! a great medicine!
No side effects and very few attacks. I have now had it for almost 2 years and I hope I can keep getting it.
The shock over the diagnosis was a very long time to catch up with me. I wasn't sorry at all. I told myself I could choose to sit down and cry, or fight !. I chose to fight. I'm struggling, still struggling to be there 100% for my daughter. She really kept me up, and she still does. My love for her has gotten me so far, the love for Melanie makes me strong in the fight against sclerosis ...
Question 3:
WHAT has been your best Fellow player in the fight AGAINST sclerosis? Answer 3. Training! And to write. Write down all my thoughts and feelings on paper and then read them over and over again. I always remember a very specific quote, which is: "Have no expectations, but lots of hope"
Exactly how I feel!
Question 4:
WHO has been your best co-player in the fight against sclerosis?
Answer 4. My daughter Melanie.
I became a single mom shortly after I was diagnosed. It made me say to myself that I couldn't just give up now because my daughter needed me and wanted it for many more years! She held me up and still does. In addition, it was my mother and stepfather who were always with me and supported and helped me. My girlfriends and the rest of my family have always helped me and supported me.
Now I have found love again and he is also a huge support. I don't know what to do without them in my life.
Question 5:
Have you felt supported and guided by the Doctors you met on your way through various consultations and hospitals?
Answer 5.
I've met a lot of doctors and nurses since.
At first, I thought it was very frustrating that there was always a new doctor to be consulted.
I felt I had to say the same things over and over.
But they have been sweet and they have given me the information I need. At first I did not ask so many questions, but I do now and they are always open when I come to the Kingdom.
Question 6:
Do you have work - how many hours a week? -or are you retiring? How do you cope with your working or retirement life?
Answer 6.
Before I got sick, I worked 37 hours a week managing a Sushi business. A job that I loved .. When I got Sclerose and at the same time became a single mom, it got too hard. It crashed with Attaks every 2 months and my fatigue got worse and worse. I couldn't get along eventually, so I got sick, and got my pension 1½ years after being diagnosed.
I really hope I can get started again sometime. I miss working. I do NOT enjoy being retired.
I am 24 years old, and do not feel that I have achieved what I want!
At the same time, I know I can't have a full-time job. I am not ready for that at all, nor do I dare to quit my pension, because unfortunately it can turn around at any time.
I have to recognize and acknowledge that…
Question 7:
Do you practice MOTION - what forms? Have you found some that work better than others? How does your body respond to Exercise or NO Exercise?
Answer 7.
When I was diagnosed, I strengthened approx. three to four times a week. It stalled unfortunately.
But 2 years ago I started again. It helped a lot on my legs. I feel great after training, but also get very tired - unfortunately. I think it has a really big impact on Sclerosis whether you train or not. I was attack-free for a year while training regularly. Then I took a break of about three months, and then had an attack. It may not have any connection, but it does have it in my head!
So I will keep training.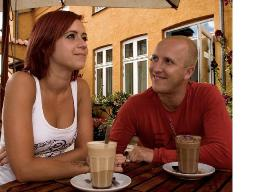 Question 8:
Are you thinking about the impact of COST on the nature of the disease? - have you found a "code"? Some food / drink that works for you - and some food / drink that is definitely not good ???
Answer 8:
That with the diet, I must say that I have not put myself so much into. I should do it, but yes a lot of bad excuses 🙂 We eat very varied diets at home. So no! unfortunately do not have any good "codes"…
Question 9:
How do you find answers to questions about sclerosis? Do you search the Internet, call your doctor, consult neurologists, use your intuition - listen to your inner voice?
Answer 9:
I use the Internet and doctors in the Kingdom if I have questions.
Question 10:
Has a cure for sclerosis been found by 2020? Is it healing? What do you think? How much do you HOPE?
Answer 10:
Uh! - it would be fantastic if a new cure was found, and which was even healing.
I hope it REALLY REALLY, but dare not expect too much. I hope the Danish doctors move a little closer to the CCSVI operation. I think it sounds too good to be true, but I have heard many positive things from people who have made it abroad ...
But again, I just hope that a good cure will be found 🙂